Sunday School (10a-10:50a)
The Reformation 500 Series audio is now available on the Internet! Please contact Ryan Waldroop for access to the link on the web.
Bible Studies
Two new Bible Studies led by Pastor Dixon have begun. One study meets at Christ Ridge PCA on Thursday mornings @9:30am; the other study meets at the Bouldin's house on Thursday evenings @ 7pm. You are invited! Contact Josh or Julia Bouldin for details.
The Bible Study schedule can be found on the Christ Ridge Website: http://christridge.com/bulletin-announcements-for-10-15-2017/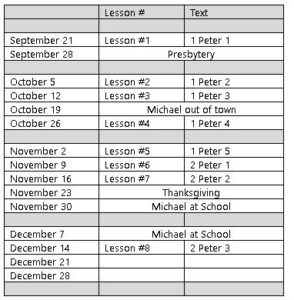 Men's Ministry News
Men's Breakfast returns this Saturday morning (10/21) from 8a to 10a. All men are welcome! We will meet at the Peach Stand in Fort Mill for a time of food, fellowship, and Bible study. Contact Shaun Ballard for details.
Other News & Events
Fellowship Meal – Immediately following the Worship Service today, you are invited to stay and enjoy great food, meet others, and create and strengthen friendships and have FUN. Won't you join us?
A special welcome to those who participated in the Palmetto State Invitational Men's doubles disk golf tournament on Saturday.