Prayer Meeting
Please join us at the Church on Wednesday Nights from 6:00-6:45 pm for a short Hymn sing and special time of prayer.
Sunday School (10a-10:50a)
The Reformation 500 Series audio is now available on the Internet!
Please contact Ryan Waldroop for access to the link on the web.
Please see below for the Sunday School chart of the history of the Presbyterian Church in the United States.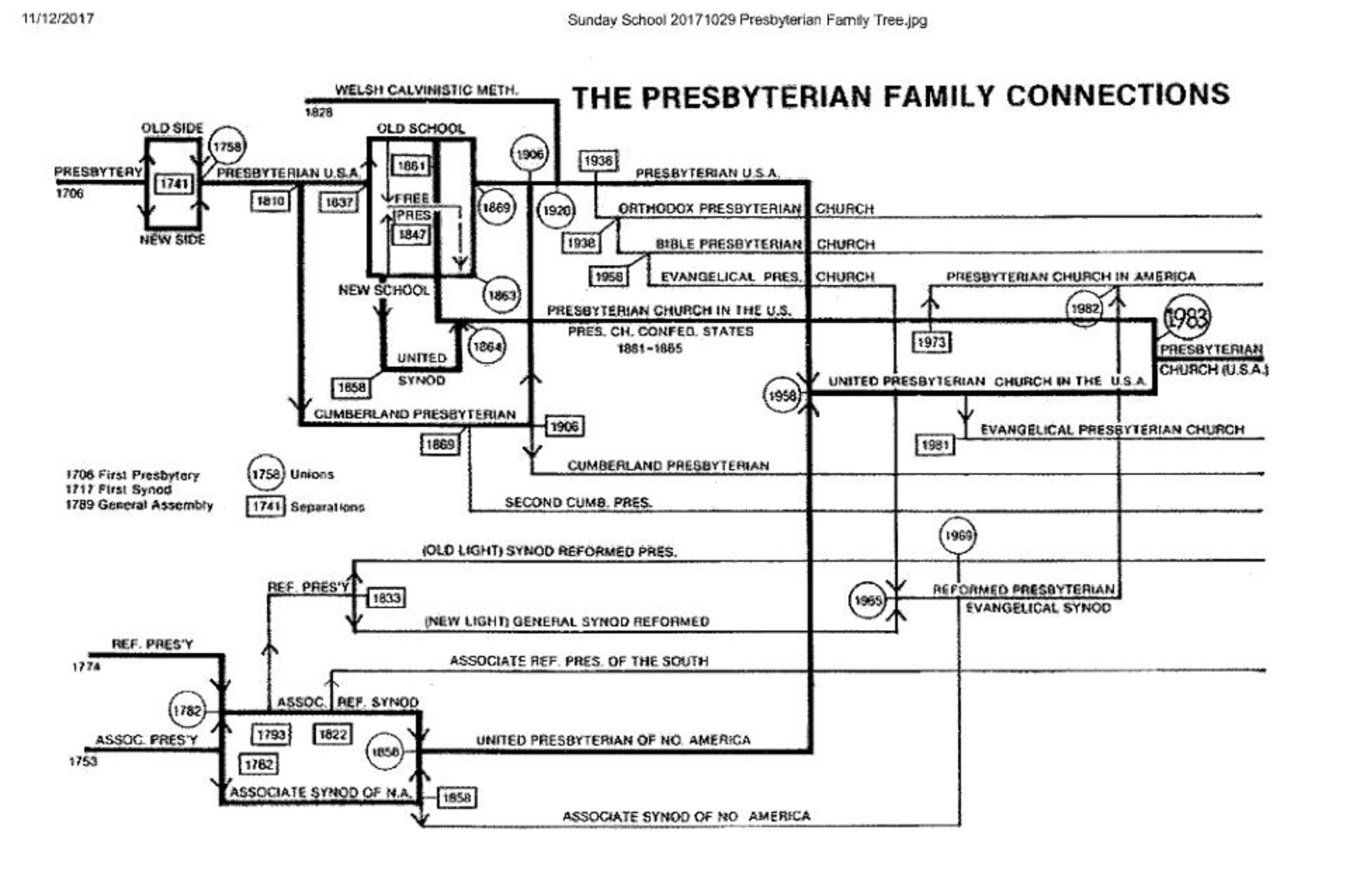 Bible Studies
The Tuesday Night Men's Bible Study will conclude its Fall schedule on Tuesday, November 28th.  The Spring Session will begin on Tuesday, January 9th.
Please contact Shaun Ballard for details.
The Thursday Fall Bible Studies continue. Please make sure to check the schedule below for the coming weeks.
Please contact the Bouldin's for specifics.The Fall Bible Study schedule can be found on the Christ Ridge Website: http://christridge.com/bulletin-announcements-for-11-19-2017/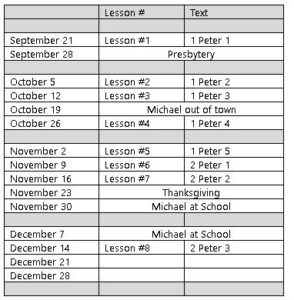 Men's Ministry News
Men, mark your calendars! The Annual Christ Ridge Men's Retreat is scheduled for Friday, January 19th thru Sunday, January 21st. More details to follow soon!
 
Other News & Events
Officer Nominations – Beginning mid-November the Session will begin receiving nominations for the office of Ruling Elder and Deacon. Please keep in mind that each prospective officer should be an active male member of Christ Ridge PCA who meets the qualifications found in
1 Timothy 3 and Titus 1. Please begin to pray for those candidates who you may nominate and the election process overall.
Ask any current Elder or Deacon for more details.
Save the date! The Christ Ridge Annual Christmas Dinner Party and Gift Exchange is Saturday, December 9th beginning at 5:30pm.  This is a White Elephant Gift Exchange and gifts should be a maximum of $10 per person.  An email has gone out for food sign up; If you need assistance in finding child care for this event, please contact a member of the CE committee.